Coordinating meeting and Workshop of the Tempus Project
Aalto University, School of Science and Technology, Espoo, Finland
(Main building, Otakaari 1)

April 23th–27th, 2010
Note! The event will be held, but there is going to be some changes in the program.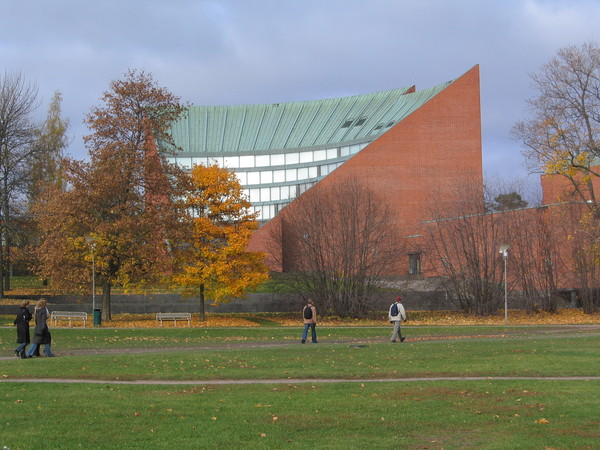 Part of the activities of the Tempus program Educational Measurement Adapted to EU Standards Department of Mathematics and Systems Analysis organizes a Tempus workshop on educational measurements on April 26 and on April 27. For more details of the Tempus project see EduMeasurement – Objectives.
Schedule
Fri April 23th (hall K)
13:00–17.00 Group work (U325)
Mon April 26th (hall G; seminar in U322)
10:00–10:40 Mari-Anna Suurmunne: Presentation of Aalto University
10:45–11:05 Dmitrii Silvestrov: Presentation of the Tempus program
11:05–11:30 Discussion
11:30–13:00 Lunch
13.00–13.45 Sakari Ahola, R.U.S.E., University of Turku: Bologna à la Finlandese – reforming Finnish higher education with all ingredients
13.45–14.30 Juha Hedman, R.U.S.E., University of Turku: Performance of universities and their ranking methods
14:30–14:50 Avramenko Olga, Kirovograd State Pedagogical University: Training of BA level students in Educational Measurements: first experience and problem-solving
14:50–15:10 Kovalchuk Yurij, Nizhin State Mykola Gogol University: Domain sampling approach to test construction
15:10–15:30 Sergienko Volodymyr, National State Dragomanov University: Development of specialisation "Educational Measurements" in National State Dragomanov University
16:00–18.00 Seminar on Stochastics (U322)

– Dmitrii Silvestrov: Reselling of options
– Raimondo Manca: The claim reserve as an insurance company realibility measure
– Hanspeter Schmidli: On risk processes conditioned on ruin
– Esko Valkeila: Path-wise integrals with respect to fractional Brownian motion: are the integral representations unique?
Tue April 27th (hall E)
Workshop on educational measurements
9:30–11:30 Group work
11:30–13:00 Lunch
13:00–13:40 Matti Pursula: The Bologna process at Helsinki University of Technology
13:45–14:15 Riikka Rissanen: How to measure students' workload
14:20–14:40 Antti Rasila: Measuring new student skills and learning styles in Aalto University
14:40–15:00 Closing discussion
Organizing team:
Esko Valkeila, Evelina Silvestrova, Dmitrii Silvestrov, Anna-Kaarina Kairamo, Antti Rasila, Paula Hämäläinen